Profit Builder 2.0 Overview
Price: $47 – $67
Money Back Guarantee: Yes/60 Day
Owner: Sean Donahoe
Website: www.profitbuilder.com
Mark here, just stopping by to say welcome to my review of WP Profit Builder 2.0 and just wanted to let you know I've been involved with online marketing for over ten years now, and I have seen a lot of good, even great products offered over the years, but I have also experienced some real crap as well.
I promise not to bore you with endless bonus after bonus offers or annoying upsells, ultimately it will be up to you to make an informed decision on whether or not the product is right for you.
I make every attempt to research and provide a fair assessment of all products I review.
What Is Profit Builder 2.0?
WP Profit Builder 2.0 is the latest landing page generator offered by Sean Donahoe based on the original software that was created 2 years ago. WP Profit Builder 2.0 is a premium plugin that enables you to create pages such as, sales pages, opt-in pages, review pages, launch pages, webinar pages, bonus pages, and eCommerce sites.
How Does WP Profit Builder 2.0 Work?
WP Profit Builder 2.0 is an easy to use WordPress plugin that allows you to create any kind of landing page you might need, and since it comes loaded with over 100 templates you don't need any kind of experience designing landing pages.
Check Out The Profit Builder 2.0 Demo Video
WP Profit Builder 2.0 Key Features
> Optimized For Conversions
Everything in WP Profit Builder 2.0 was built with conversions in mind. They use WP ProfitBuilder for almost everything in their businesses and built it originally because they found every other system lacking in many critical areas. Now you can benefit from their focus on YOUR conversions.
> Easy Drag And Drop Builder
WP Profit Builder 2.0's FreeFlow UI makes it easier than ever to quickly build amazing custom landing pages for any campaign, and use overlays to increase conversions on all your pages all without touching a single line of code. Just drag, drop and you are ready to rock and take control of your marketing.
> Always Mobile Responsive
When you use WP ProfitBuilder, your pages automatically look fantastic on every device and ensure that your visitors have the best experience possible. When your users have the ability to view your landing page when they want, where they want, your conversion potential skyrockets.
> Works Seamlessly With Your Existing Site
WP ProfitBuilder fits right into your existing site without you needing to change your theme. While they do have an awesome optional theme that supercharges WP ProfitBuilder, you can instantly deploy awesome landing pages alongside your existing site without needing to change a thing.
> Lightning Fast Load Times
Optimized for maximum speed, your pages will convert more leads, rank higher in the search engines and you will reduce your bounce rates. When you give your customers a better experience you will rise above your competition and generate more sales from the same amount of traffic.
> Easy Seamless Integration
WP Profit Builder 2.0 supports a wide range of integrations with the most popular marketing platforms, including all major email marketing services, webinar services and much more. WP ProfitBuilder makes it super-simple to send your new leads straight to the tools you are already using.
You Can Now Sell Anything Anywhere With WP Profit Builder 2.0's SmartCart
Sell physical or digital products easily with WP Profit Builder 2.o's highly-flexible SmartCart eCommerce system that maximizes conversions and increases profits:
> Sell Any Product Faster
It's never been easier to sell your products or services online, all it takes is a few clicks and you are ready to go.
> Customize For Your Needs
Configure the cart design, layout and elements to suit your EXACT needs and create the perfect conversion flow for your products.
> Add Order Bumps
Dramatically increase profits instantly with high-powered order bumps to capture your customer's attention when they are buying.
WP Profit Builder 2.0 Goes The Extra Mile – Check This Out!
> You Can Create A FULL eCommerce Store
Is eCommerce your thing? If so, you can build a full store with WP ProfitBuilder and their special theme to create a professional looking store and start selling all your products FAST with an eCommerce engine that powers 37% of all eCommerce stores and has 3 times more active stores than Shopify.
> Set Up Funnels Fast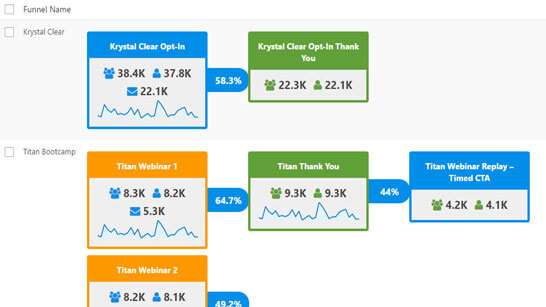 WP Profit Builder 2.0's new funnel builder makes it easier than ever to optimize and maximize profits. In just a few clicks you can assign your pages to a funnel and monitor in real-time your campaign success and dramatically increase revenues for every single lead.
> A/B Split-Test And Optimize
WP Profit Builder 2.0's smart A/B page testing tool lets you track your visitor's behavior, compare conversion rates, pick the best-performing landing page and maximize the potential of every single lead. If you're not testing, you're not marketing and potentially losing money.
Who Is WP Profit Builder 2.0 For?
WP Profit Builder is for anyone who is a blogger, writes product reviews, or is an affiliate marketer. WP Profit Builder 2.0 is also perfect for beginners.
Final Thoughts On WP Profit Builder 2.0
WP Profit Builder 2.0 does what it says and is easy to use, is beginner friendly, is loaded with features and is reasonably priced. The drag and drop feature makes it extremely easy to create any landing pages, sales pages, opt-in pages and so on.
Another thing I really like about WP Profit Builder 2.0 is you only pay a one-time fee. There are actually three licenses to choose from, just pick the one that's right for you and you're done.
>>Want To Learn More About WP Profit Builder 2.0? Click Here Today!<<