Niche Tycoon Overview
Overall Ranking:
Price: $147
Owner: Jon Dykstra
Money Back Guarantee: Yes/30 Day
Website: www.nichetycoon.com
Mark here, just stopping by to say welcome to my review of Niche Tycoon and just wanted to let you know I've been involved with online marketing for over ten years now, and I have seen a lot of good, even great products offered over the years, but I have also experienced some real crap as well.
I promise not to bore you with endless bonus after bonus offers or annoying upsells, ultimately it will be up to you to make an informed decision on whether or not the product is right for you.
I make every attempt to research and provide a fair assessment of all products I review.
What Is Niche Tycoon?
From Jon Dykstra comes a great product called "Niche Tycoon". Niche Tycoon is a 100 page PDF guide on how to set up a website using the exact formula Jon uses to generate over $40 – $60k USD per month.
Jons latest approach is really quite amazing, and conceptually, it's really quite simple.
What Do You Get With Niche Tycoon?
Niche Tycoon gives you 88 lessons ( 50+ video tutorials ) that walk you through every step on how to plan, launch, and build amazing niche websites.
These aren't your every day, run of the mill WordPress blogs either. These sites are built with the user in mind which can be leveraged to generate large amounts of quality content quickly which will earn revenue from multiple sources, such as multiple ad networks, affiliate programs, and even recurring revenue sources.
In A Nutshell, Heres What You Will Learn
1. How to build ultra user-friendly niche websites with the potential for a huge number of page views per visitor (which helps increase revenue). This is the result of over 4 months of research and testing creating a niche website structured designed to rank a great deal of content well in the search engines and just as importantly be extremely user-friendly. This structure also offers nearly infinite display ad possibilities.
SAMPLE SITE INCLUDED: Section 18 includes a full set of video tutorials showing you every detail on how Jon built his latest niche websites – every technical detail revealed.
2. How to generate large amounts of traffic from multiple sources including organic search, social media and paid.
3. How Jon generates big profits from buying traffic to niche websites (this is a bit hit and miss so please don't count on this necessarily working).
4. How to leverage high-traffic B2C niche blogs to tap into the insanely lucrative B2B markets (this alone is worth the price of the course).
Check Out This Screen Shot Showing Revenue Jon Generated Using media.net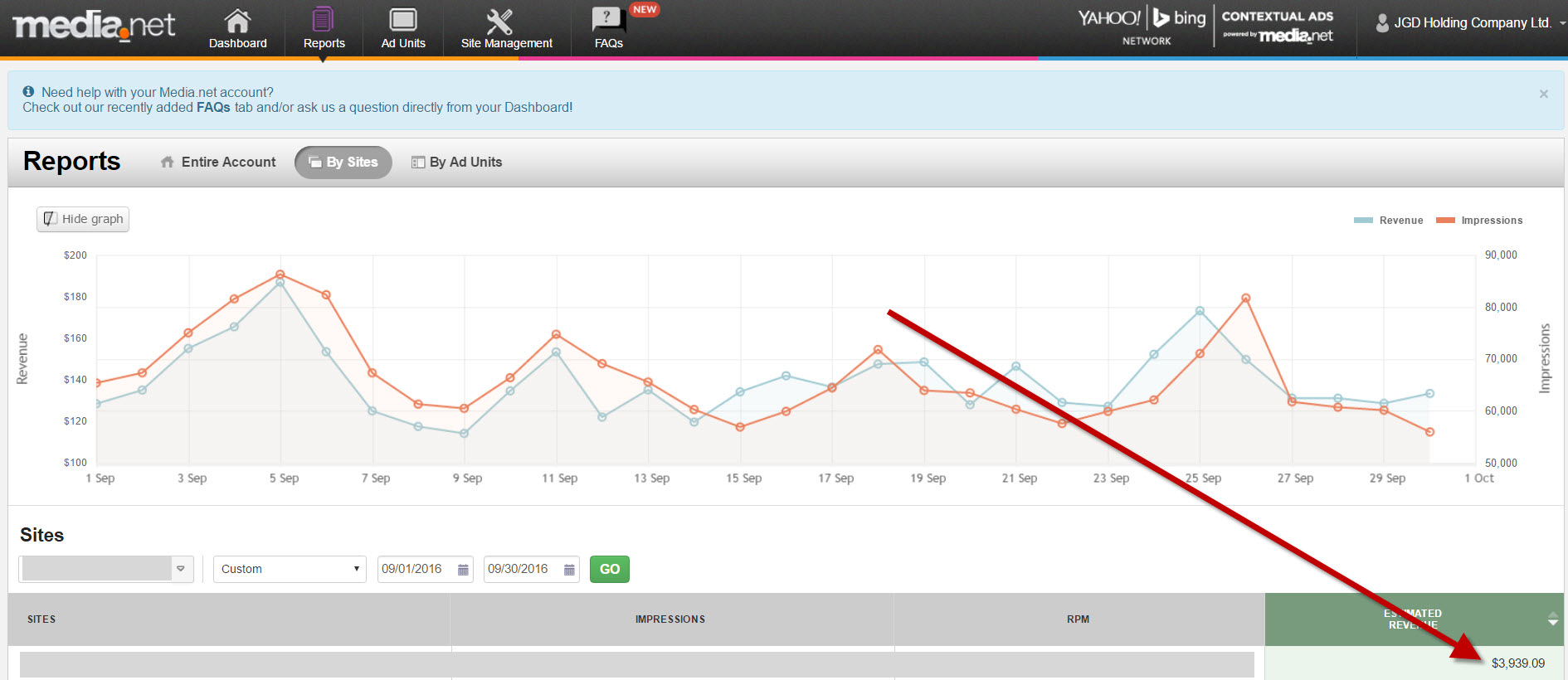 5. How to earn recurring revenue from your B2C/B2B hybrid websites. Recurring revenue is the ultimate form of revenue for any business.
6. 4 Keyword research methods Jon uses to uncover easy-to-rank for long tail keywords (the best way to start getting traffic immediately).
7. How to get user-generated content submitted and done so in a way that it actually results in the best content on the web (it all comes down to website structure and precisely what types of content you ask for users to submit).
8. Detailed niche selection videos and information.
9. Over the shoulder videos showing you step-by-step how Jon builds his brand new types of niche websites. You'll get access to a sample website as well as shown in the videos.
10. Where and how Jon gets quality content for very reasonable rates… plus how you can get FREE content from your website users (this is part of the magic of building a B2C/B2B hybrid website.
11. You will learn exactly how and where Jon puts display ads for maximum revenue.
12. This course includes loads of information on how Jon generates thousands of dollars each month in affiliate commissions including promoting physical products and digital products to a variety of niche audiences.
Niche Tycoon

Pros

And

Cons
Pros
A ton of quality information.

Simple concept, easy to understand and implement.

Perfect for people who don't like to write, no need to focus on blogging.

No upsells, not even one.
Cons
Jon uses Adsense, you can get banned from Adsense quite easily if you are not familiar with the rules. There other good alternatives to Adsense.

Might be a little too detailed for anyone new to online marketing.

You will need to spend some money.
Who Is Niche Tycoon For?
Niche Tycoon is really for anyone. The simple, easy to understand training can work for anyone, from beginners to the more experienced marketer, but some of the training is actually geared toward the more advanced marketers among us.
Final Thoughts On Niche Tycoon
Niche Tycoon has been getting nothing but positive reviews just about everywhere you look, and I was hard-pressed to find anything overly negative. Jon Dykstra definitely knows his stuff, and if you have any doubts just do what I did and check out some Niche Tycoon reviews and you will quickly discover how much respect Jon has garnered over the years with the online marketing community.
Niche Tycoon is a first class guide that is simple to understand and implement and is definitely worth checking out. Want To Learn More About Niche Tycoon? Click Here Today!
Want to learn how to start your own successful online business with a program that is 100% Legit? If so, then I suggest you check out my #1 Recommended Training Course And Get Started For Free!