StockUnlimited Overview
Overall Ranking:
Price: Starting @ $9/month
Owner: Andy Sitt
Website: www.stockunlimited.com
Mark here, just stopping by to say welcome to my review of StockUnlimited and just wanted to let you know I've been involved with online marketing for over ten years now, and I have seen a lot of good, even great products offered over the years, but I have also experienced some real crap as well.
I promise not to bore you with endless bonus after bonus offers or annoying upsells, ultimately it will be up to you to make an informed decision on whether or not the product is right for you.
I make every attempt to research and provide a fair assessment of all products I review.
What Is StockUnlimited?
StockUnlimited is probably the best stock image service for 2017. It is a subscription-based website that provides subscribers with unlimited downloads of stock images, stock graphics, icons, backgrounds, buttons, textures and much more. Thousands of fresh and new files are added every week which ensures they meet the customer's needs with the most up-to-date content. Content is simple to use for non-professionals without breaking the bank.
What really sets StockUnlimited apart from other content providers is their super simple license model. For one low monthly fee, you can download and use as much content as you want for virtually any project. There are no complicated licenses to worry about, no daily limits, no expiring credits and no additional fees.
StockUnlimited is no stranger to the business world. Even though they have only been around since 2014, they have a team with a long history in the creative and media industries. They are backed by the same people who were involved with the leading content marketplaces, 123RF and Inmagine.
Key Features Of StockUnlimited
You get unlimited access to the entire StockUnlimited Portfolio.

There are no download caps, so you may download and use as much content as you want.

You can cancel your subscription at any time. There are no long-term contracts.

New content is continually added to the portfolio, so you will never run out of inspiration.

All graphics and images provided on StockUnlimited come with the right to use them royalty free for virtually any project.

All images are of high quality and resolution.

Save your favorite images so you can go back and reference them over and over.

There are also some free downloads available with StockUnlimited.
Graphics Are Easy To Use In All Types Of Projects And Design Concepts
Graphic Design

Print Flyers

Video Games

Presentation Slides

Websites

Business Cards

Party Invitations

Brochures And Pamphlets

Smartphone Apps

Motion Graphics Animations

Event Signs And Banners
The service at StockUnlimited includes photography as well as vector assets: A vector is a computer graphics file that can be scaled to any size without loss of quality.
StockUnlimited has also added an audio downloads service. Audio downloads do require a different plan than images, but it is a good way to enhance your audio collection. StockUnlimited has more than 200,000 audio files with music, sound effects, and transition and movement sounds.
So What About Pricing?
Each StockUnlimited asset comes with the same license. The standard license allows you to use images for advertising, marketing, and promotions for social media campaigns, websites, and apps, printed publications and so on.
You get all of this for the same price.
Pricing For Images: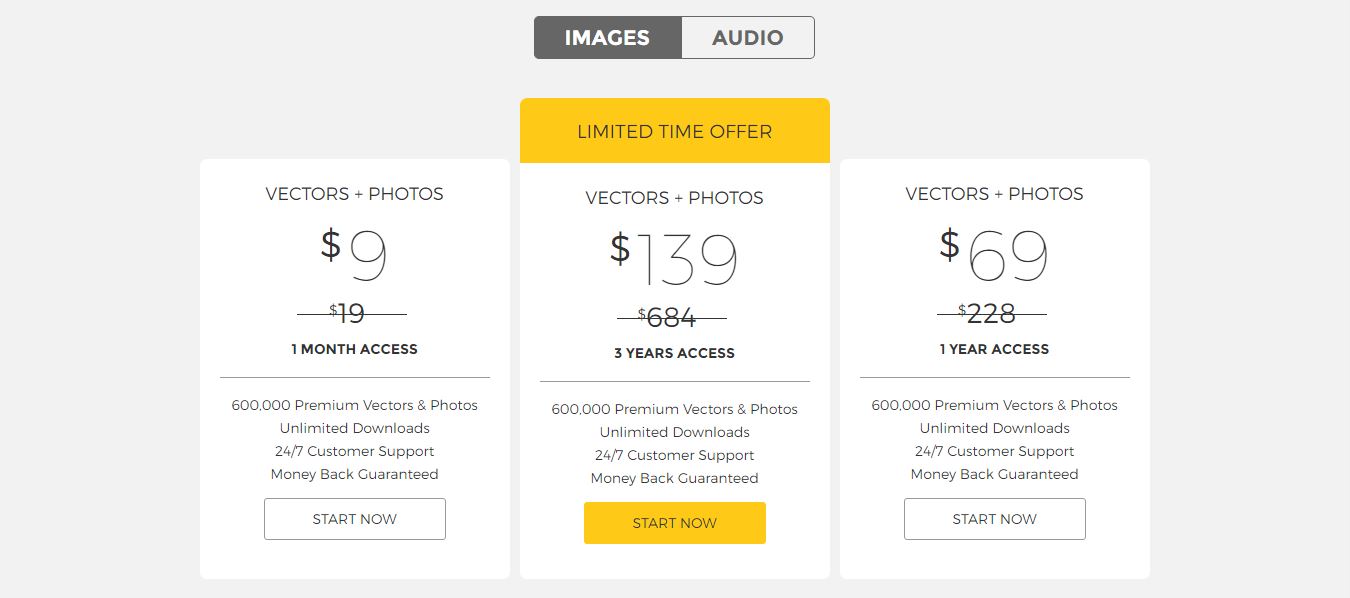 Pricing For Audio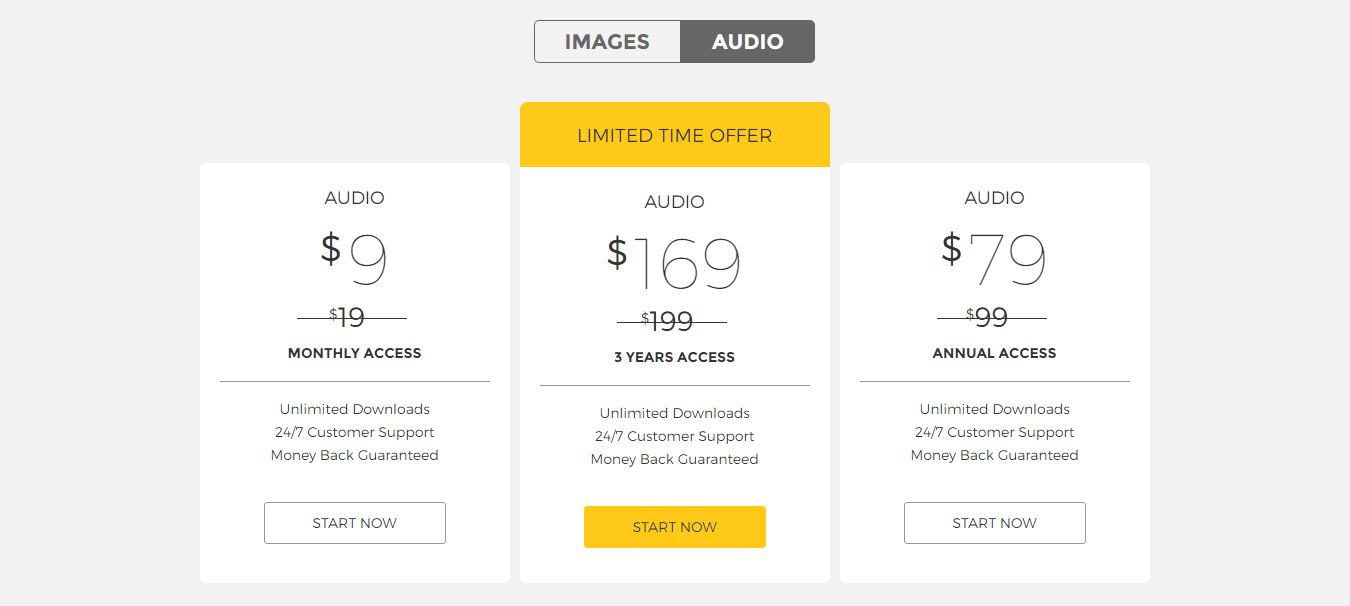 StockUnlimited also offers discounts on multi-user plans ( 20 users and above )
We have all heard it before " A Picture Is Worth  A Thousand Words " When it comes to capturing your audience's attention, the use of effective visuals to power up your communications, boost engagement and liven up your social media has never been more critical than it is today. Human beings by nature are visual creatures and the use of images can be very powerful when trying to get your message across.
Communicating does no good if it's not retained by your audience. Today it is easy for information to get lost or ignored if it's not in a digestible format. Integrating visual content can boost how much your audience absorbs and remembers. A service such as StockUnlimited will enable you to fulfill all of your visual, image and audio needs and help you capture and keep your audience's attention.
Final Thoughts On StockUnlimited
The membership plans are an obvious bargain if you plan on using a lot of images for your projects. The membership model allows you to test multiple images before deciding on the one you want, with standard image services you pay per image which can get very costly very quickly.
StockUnlimited provides a quality product at a price that won't break the bank and is definitely worth a serious look. Want To Learn More About StockUnlimited? Click Here Today!
Want to learn how to start your own successful online business with a program that is 100% Legit? If so, then I suggest you check out my #1 Recommended Training Course And Get Started For Free!