Oberlo Overview
Price: Free – $29.90/month – $79.90/month
Owners: Andrius Slimas
Website: www.oberlo.com
Mark here, just stopping by to say welcome to my review of Oberlo and just wanted to let you know I've been involved with online marketing for over ten years now, and I have seen a lot of good, even great products offered over the years, but I have also experienced some real crap as well.
I promise not to bore you with endless bonus after bonus offers or annoying upsells, ultimately it will be up to you to make an informed decision on whether or not the product is right for you.
I make every attempt to research and provide a fair assessment of all products I review.
What Is Oberlo?
Oberlo is a very popular app for the eCommerce platform Shopify and is the leading marketplace for entrepreneurs to search and find products to sell online. Oberlo allows you to import products directly from the Chinese giant AliExpress.
Oberlo helps you find and add products directly into your Shopify store so that you can start selling right away. When you find products, you'll never have to keep them in a warehouse or have them stored in your house because Oberlo will hold the products for you.
Import Hundreds Of Products To Your Store In Minutes
What Is Dropshipping?
With dropshipping, store owners can sell products to their customers without actually stocking the items themselves. Small-scale e-commerce entrepreneurs love dropshipping because there is no inventory to hold which translates into a lower upfront investment.
Oberlo Key Features
* Easily Import Dropshipped Products:
Import dropshipped products right to your e-commerce store using the Oberlo app. Find the products you want to import, publish to your online store, and start selling directly to your customers.
* Fulfill Orders Automatically:
Ship products right to your customers. Just click on "Order Product" and then confirm. Fulfillment is automatically handled by Oberlo.
* Inventory And Price Auto-Updates:
I really like this one, Oberlo constantly updates your product price and stock levels, so you never sell a product that's out of stock or above your retail price.
* Product Customization:
Edit your products as you wish: change titles, descriptions, images, anything!
* Shipment Tracking:
Know where your orders are at all times with integrated order tracking.
* Track Your Sales:
Follow your store earnings in a convenient sales and costs dashboard.
* Change Product Suppliers:
Easily switch between the suppliers offering the best price.
Who Is Oberlo For?
Oberlo is perfect for anyone wanting to venture into the dropshipping arena without having to worry about high upfront costs, and without having to actually stock items themselves.
Oberlo Pricing
Oberlo offers three pricing plans and actually has a Free plan as well.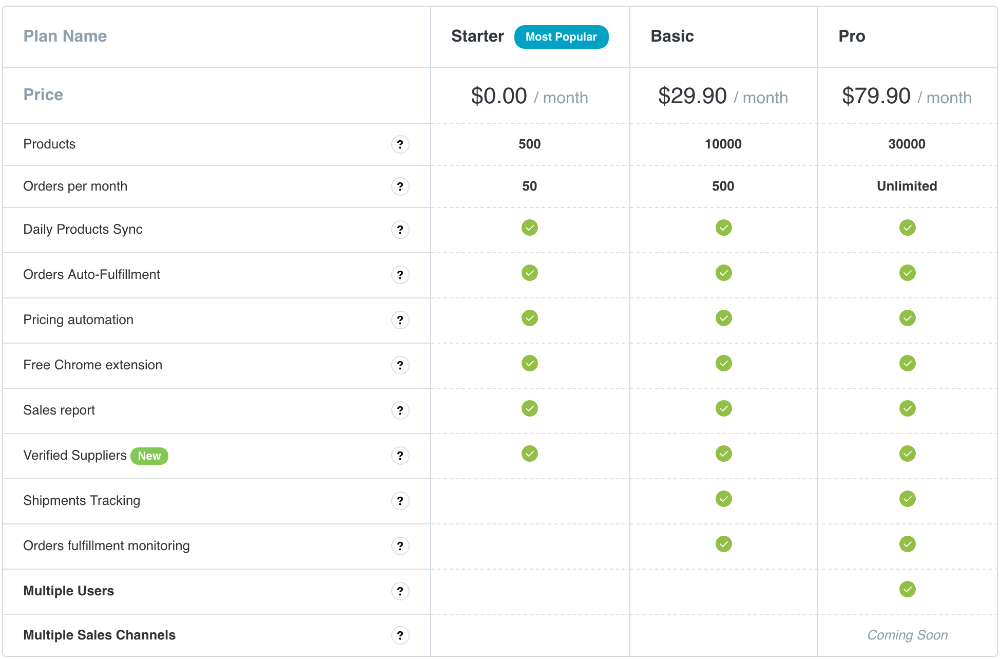 Final Thoughts On Oberlo
I think Oberlo is a fantastic partner to the Shopify eCommerce platform, and I agree with some that you might be limited to how many products you can source with Oberlo but since "super giant" AliExpress is where you will be finding products to sell there is no way you will ever need to source from anywhere else.
Oberlo is loaded with features and is very easy to use and understand. Oberlo will save you a ton of time and you won't have to worry about the hassle of processing dozens or even hundreds of orders every day. Want To Learn More About Oberlo? Click Here Today!
Want to learn how to start your own successful online business with a program that is 100% Legit? If so, then I suggest you check out my #1 Recommended Training Course And Get Started For Free!