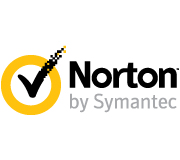 Norton WiFi Privacy Overview
Overall Ranking: 
Price: 7 Day Free Trial
Owner: Symantec Corp.
Website: www.us.norton.com
What Is Norton WiFi Privacy?
Norton WiFi Privacy allows you to pay bills and check your email using public WiFi without worrying about hackers and identity thieves stealing your private data. Norton WiFi Privacy allows you to turn any public hotspot into a secure virtual private network ( VPN ). Your passwords and other confidential data are encrypted and your location shielded from view, even advertisers won't be able to find you. With Norton WiFi Privacy on your PC, Mac, Smartphone or Tablet you can go online in public and do it privately!
Protects the data you send and receive when using public WiFi.

Adds bank grade encryption to protect you on public WiFi hotspots.

Lets you browse the web anonymously so your privacy is protected.

Allows access to your favorite apps and content anywhere you go, as if you were at home.

Encrypts your data on a no-log virtual private network that doesn't track or store your activity.

Provides a 60 day money back guarantee.

Offers world class customer support from Norton.
So What Is A VPN? And Why You Should Use A VPN On Public WiFi
Like most of us you are probably wondering if public WiFi  is safe, and it's not! Surfing the web and doing transactions on an unsecured WiFi network means you are putting your private information and anonymity at risk. That's why a VPN or Virtual Private Network is for anyone who is worried about online security and privacy.
What Is A VPN?
A virtual private network gives you online privacy and anonymity by creating a private network from a public internet connection. VPN's mask your internet protocol ( IP ) address so your online actions are virtually untraceable. More importantly, VPN services establish secure and encrypted connections which ensure greater privacy than a secured WiFi hotspot.
Watch the 30 second video that highlights how VPN's protect you on public WiFi
Why You Need A VPN
Think about how busy we can all get, reading emails while in line at the coffee shop, or checking the bank account while waiting at the doctor's office. Unless you were logged into a private WiFi network that required a password, any data transmitted during your online session was likely vulnerable to eavesdropping by strangers using the same network. A VPN provides you with encryption and anonymity and protects all of your online activities such as, sending emails, shopping online or paying bills. VPN's also help keep your web browsing anonymous.
VPN's essentially create a data tunnel between your local network and an exit node in another location, which could be thousands of miles away making it seem like you are in another place. This benefit makes VPN's valuable for people who live in countries that censor access to specific websites. It will also allow you to continue enjoying your favorite apps and websites from anywhere in the world, just like you were at home.
Some Do's And Don'ts When Using Public WiFi
Public WiFi is available almost everywhere, from local coffee shops to hotels and airports. WiFi makes our lives a little easier, but also poses security risks to the personal information stored on our laptops and smartphones.
Two Types Of Public WiFi
There are basically two types of public WiFi networks, secured and unsecured. An unsecured network can be connected to within range and without any kind of security feature like a password or login. Conversely, a secured network requires a user to agree to legal terms, register an account, or type in a password before connecting to the network.
Do – Connect to secured public networks whenever possible. In the event you are not able to connect to a secured network, using an unsecured network would be permissible if the connection requires some kind of password or login.
Don't – Access personal bank accounts, or sensitive personal data on unsecured public networks. Even secured networks can be risky. Use your best judgment if you must access these accounts on public WiFi.
Don't – Leave your laptop, tablet or smartphone unattended in a public place. Even if you are on a secure WiFi network, that won't stop someone from taking your property or sneaking a peek at your device.
Don't – Shop online when using public WiFi. It may seem like shopping doesn't involve sensitive data, but making purchases online requires personal information that could include bank account and retailer login credentials. Shopping is something you don't want to do on an unsecured Wifi network.
Do – Turn off automatic connectivity. Most smartphones, laptops and tablets have automatic connectivity settings, which allow you to easily connect from one hotspot to the next. This feature is convenient but, it can also connect your devices to networks you would not ordinarily use. So, keep these settings turned off when you are travelling to unfamiliar places.
Do – Monitor your Bluetooth connectivity. Bluetooth in the home is an amazing feature on many smart devices. However, leaving Bluetooth on in public places can pose a huge risk to your cybersecurity. Bluetooth connectivity allows various devices to communicate with each other, and a hacker can look for open Bluetooth signals to gain access to your devices. Keep this function on your phone and other devices locked down when you leave your home, office or other similar secured area.
Do – Think about using a virtual private network ( VPN ) to ensure your privacy and anonymity are protected when using public WiFi. VPN services can encrypt all of the data you send and receive while using public WiFi hotspots and secure your information from other users of the same connection.
System Requirements 
Available for Apple or Android smartphones and tablets
iPhones or iPads running iOS 6 or later

Androids running 4.0 or later
There are no minimum RAM or memory requirements.
Final Opinion On Norton WiFi Privacy
Norton WiFi Privacy is good value for your money. If you are not terribly tech savvy then the ease of use will be appealing to many users with limited mobile phone expertise. If you are someone that regularly uses public WiFi then you should seriously consider a VPN service like Norton WiFi Privacy.
>>Save up to 50% on Norton Wifi Privacy<<