Conversion Gorilla
Pros
Fully Hosted Platform - Nothing To Install
30 Day Money Back Guarantee
Easy To Use Wizard
Free Platform Updates For Life
You can use Conversion Gorilla on Unlimited sites
Cons
You can only create 10 bars in your account that will be active at any one time
There are some upsells
Conversion Gorilla Overview
Price: $27
Owner: Promote Labs Inc.
Money Back Guarantee: Yes/30 Day
Website: www.conversiongorilla.com
Mark here, just stopping by to let you know I've been involved with online marketing for over ten years now, and I have seen a lot of good, even great products offered over the years, but I have also experienced some real crap as well.
I promise not to bore you with endless bonus after bonus offers or annoying upsells, ultimately it will be up to you to make an informed decision on whether or not the product is right for you.
I make every attempt to research and provide a fair assessment of all products I review.
What Is Conversion Gorilla?
It seems to be getting harder and harder every day to get visitors to stay on your site once you finally get them there. Conversion Gorilla is a great tool that will allow you to take control of visitors to your site.
Conversion Gorilla is software that allows you to create customizable, eye-catching message and traffic bars that will grab visitor attention, engage your visitors to drive more traffic, boost clicks and increase sales and profits. Conversion Gorilla will send visitors to content, checkout pages, or affiliate offers.
Check Out This Video That Shows How Easy Conversion Gorilla Is To Use
Conversion Gorilla Key Features
> Great Looking Attention Bars: Beautiful fully customizable bars to match the look and feel of your site.
> Click-Getting Traffic Bars: Proven to deliver 700% more clicks than regular on page links/buttons.
> Evergreen Countdown Timers: Hands-free "set and forget" scarcity to create consistently higher conversion.
> Fixed Date Countdown Timers: Perfect for planned product launches or fixed date expiring special offers.
> Smart Triggering Options: Display bars at exactly the right time for maximum effectiveness.
> Clever Visitor Targeting: Makes controlling who sees your bars and when they see them easy!
> Exit Intent Technology: Squeeze the maximum ROI from your traffic and save sales with exit offers.
> Fully Customizable: Control everything from the visual bar building wizard in your dashboard.
> Create Amazing Looking Bars With Point And Click Customization
Conversion Gorilla makes everything simple and fast.
Use the integrated wizard feature to create any kind of bar and configure its settings in just minutes. Zero coding required.
Creating A New Bar Takes Less Than 2 Minutes!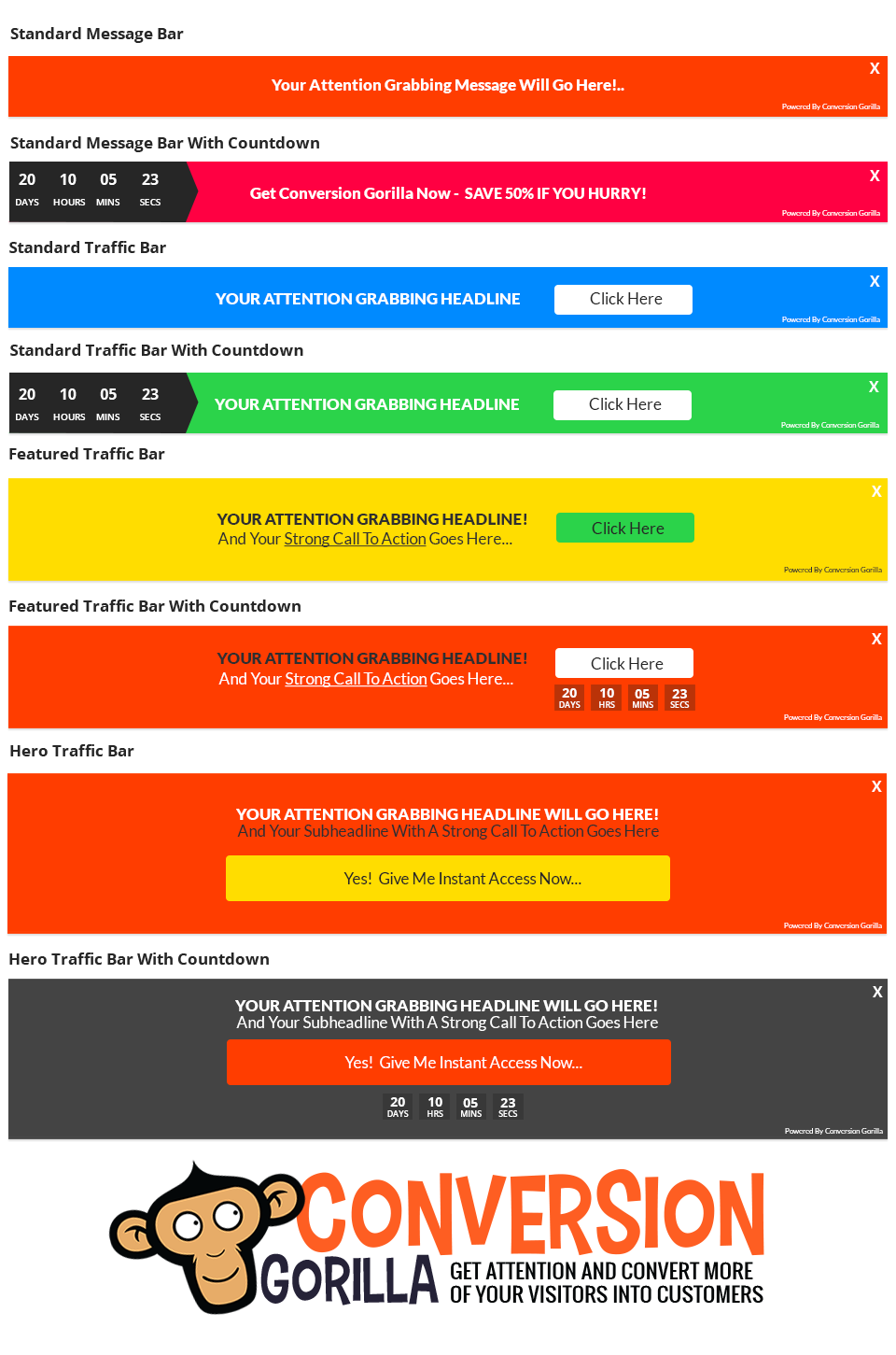 Bars can be configured to appear at the top of your pages or at the bottom, their appearance can be triggered

based on any of these "triggering" options:

Immediately on Page Load

After X Seconds Of Time On Page

After X Percentage Of Screen Scroll

Only If Visitor Has Come From A Specific Site or URL

If A Visitor Is About To Leave Your Page (exit intent)
Bars are not locked to specific sites or pages which means you can add the same bar across multiple page and/or different websites. Once added to a page you can then update or edit them from within your dashboard and the changes on the site will be reflected immediately (a huge potential time saver.)
Some Frequently Asked Questions
How Many Sites Can You Put Conversion Gorilla On?
There are absolutely NO limitations, you can use Conversion Gorilla on an unlimited number of your personal sites. Each individual bar can be placed on multiple sites/pages at the same time.
How Many Active Bars Can You Create?
You can create up to 10 bars in your account that will be active at any one time. This includes ANY combination of attention bars and traffic bars. If you need more, there is an easy upgrade option to go 'Unlimited' during your account creation process.
How Do I Get The Bars Working On My Site?
All you do is simply copy a little code snippet that you get from your Conversion Gorilla dashboard and paste it into the webpage's code. A FREE WordPress plugin is recommended that you can use on your blog that can add the snippet to multiple pages, posts, categories and more all at the same time.
Can You Use Bars To Collect Emails?
Yes you can, but It's not a standard feature but Conversion Gorilla does offer an "add-on" that turns regular bars into powerful 2-step lead capture bars.
Can I Us Bars For Social Media Campaigns?
Yes, you can. Like email collecting bars, social media bars to collect likes, follows, shares and even click to call via Skype are available with a low-cost "add-on" option.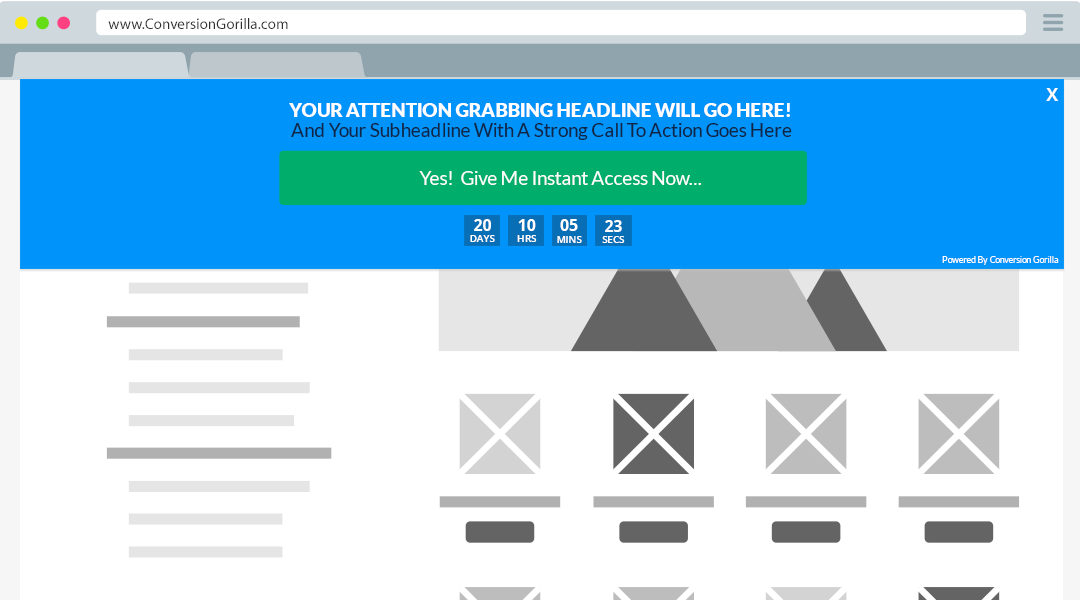 Who Is Conversion Gorilla For?
Conversion Gorilla is for anyone who is an affiliate marketer, or product owner that wants to improve conversions and sales. Conversion Gorilla is perfect for beginners with limited technical experience since everything is so easy to use, but more experienced marketers will benefit from it as well.
Final Thoughts On Conversion Gorilla
Conversion Gorilla is a decent product that has a ton of features, is easy to use, and reasonably priced. There are however some upsells to be aware of, but all in all, I think Conversion Gorilla will help anyone increase conversions, drive more traffic, and increase sales. Want To Learn More About Conversion Gorilla? Click Here Today!
Want to learn how to start your own successful online business with a program that is 100% Legit?If so, then I suggest you check out my #1 Recommended Training Course And Get Started For Free!